Rob Andolina – Landing Page Academy
Salepage: Rob Andolina – Landing Page Academy
Learn How To Make Landing Pages That Convert At 20-70%
Your Instructor
Landing Page Academy is taught by Rob Andolina, a 'Google Premier Partner' pay-per-click expert who's managed $10's of millions of dollars in ad spend for hundreds of local business owners and internet marketing agencies over the past 11 years. (You've probably seen his YouTube videos). Rob heads up all of the PPC operations for his white label pay per click company Clicks Geek along with his partner Ed Stapleton, Jr.
Who This Course Is For:
This course is for ANYONE who is looking to learn how to build landing pages for themselves or for their client's. This course will teach anyone (no matter what your current skill level is) how to successfully build high-converting landing pages from start to finish, in any niche.
Not only will we teach you how to set these pages up, but we'll actually give you landing pages that we currently have that produce conversion rates of over 20% in 5 separate niches. (Limo / Party Bus, Junk Removal, Plumbing, Auto Glass Repair & Commercial Cleaning)
Course Curriculum
Module 1: What is a landing page?
Module 2: The power of message match
Module 3: Landing page copywriting 101
Module 4: Building a landing page from scratch
Module 5: Landing page building platforms
Module 6: How to a/b test landing pages
Module 7: GDPR law (What to know)
*Resources Tab (Our Favorite Must Have Tools / Softwares)
What You'll Learn…
Introduction
Module 1:
What is a Landing Page? (1:40)
Using a Landing Page Vs a Homepage (2:19)
Types of Landing Page Builders / Softwares (2:28)
Module 2:
Social Proof & Why Its Essential to Use as Leverage (2:30)
Module 3:
Landing Page Copywriting 101 (How to Make All Your Pages Convert Over 20%+) (5:42)
Creating Your Headlines With The PERFECT Message Match (5:08)
Building Out Your Main Call to Action (CTA) (5:58)
Improve Landing Page Experience (Complete How To) (5:55)
Different Style Pages (Button Pop-Ups Vs Lead Gen Forms) (3:29)
Thank You Pages And Their Functions (3:37)
Module 4:
Building a Landing Page From Scratch (In Instapage) (16:21)
Plumber Mobile Lead Generation Page (With Contact Form) 47% Conversion Rate* 7:50)
Limousine / Party Bus Call Only Page (No Contact Form) 21% Conversion Rate* (3:32)
Module 5:
Building a Landing Page on Instapage's Platform (21:02)
Building a Landing Page on Unbounce's Platform (3:30)
Module 6:
How to A/B Test Landing Pages in Instapage (Get 25%-40%+ Conversion Rates) (3:27)
How to A/B Test Landing Pages in Unbounce (Get 25%-40%+ Conversion Rates) (2:37)
A/B Testing in Small Chunks (Incrementally Increase Your Conversion Rates) (2:44)
Module 7:
GDPR (General Data Protection Regulation) (2:20)
We Know Landing Pages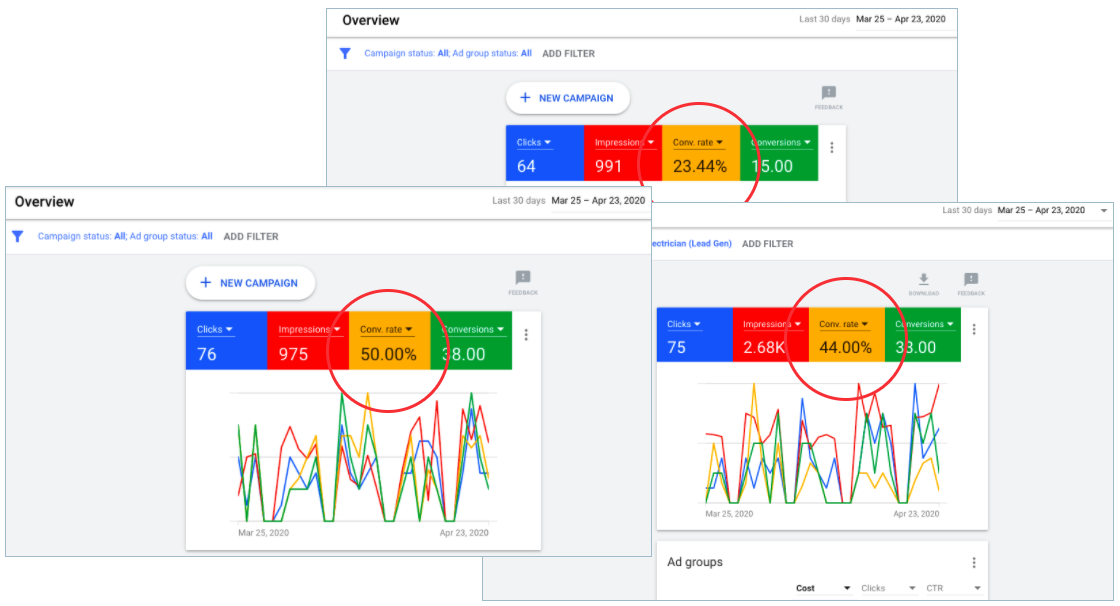 Frequently Asked Questions
When does the course start and finish?
The course starts now and never ends! It is a completely self-paced online course – you decide when you start and when you finish.
Can't I learn this stuff on Youtube?
You could piece together how to create a profitable lead generation landing page by watching Youtube videos. It would take you months to learn all the techniques and strategies I show you in this course. The price isn't just your time. With Youtube videos alone, you'd spend hundreds if not thousands of dollars mastering landing page conversion rates by trial and error. What's worse, after all that struggle, you would know there was a much easier way. In Landing Page Academy I teach you exactly how to create lead generation landing pages that can turn around your failing conversion rates. And grow them beyond your biggest expectations. You'll always have access to the content. Including all the new content I'll add.
More courses from the same author: Rob Andolina
Share Tool - Group Buy Tools and Premium WordPress From $1