Monnica T Williams – Racial Trauma: Assessment and Treatment Techniques for Trauma Rooted in Racism
SalePage: Monnica T Williams – Racial Trauma Assessment and Treatment Techniques for Trauma Rooted in Racism
Description
The trauma of racism is real, and it leaves many clients with the classic symptoms of PTSD.
Join racial trauma expert Dr. Monnica Williams and change the way you work with racism and race-based experiences in therapy as she gives you the tools you need to help clients name, express, and heal from racial trauma!!
Whether you've never felt the traumatic wounds of racism, or have experienced racial trauma firsthand, this program will empower you to validate your clients' pain and offer real clinical solutions.
This fiercely honest 3-hour training will provide you with:
Direction on how you can be more comfortable talking about issues related to racism in therapy
Guidance for clinicians of color who've experienced feelings of oppression and discrimination
Interview protocols to identify deep seated wounds from daily assaults on dignity
DSM-5 framework guidance for race-based stress and trauma
Skills and interventions to properly address racial trauma in a clinical setting
Don't let racial trauma go unidentified or risk clients failing to fully recover because you don't have the clinical guidance you need!
Purchase today, get the skills and techniques to work with racial trauma, and be prepared to move clients toward a better tomorrow!
Objectives
Assess the clinical implications of racial experiences leading to trauma symptomology.
Evaluate how historical, cultural, and individual trauma may or may not fit into a DSM-5 framework.
Employ interventions that address traumatic experiences with racism in trauma treatment sessions.
Outline
Racial Trauma Assessment:
Start the Conversation and Uncover the Trauma of Racism
How to start the conversation
Race-related traumas and DSM-5 criteria
Validated measures for racial trauma
Assessing related cultural constructs
Clinical Interview Assessment tool
UConn Racial/Ethnic Stress & Trauma Survey
Clinical Techniques:
Practical Interventions for Addressing Racial Trauma in Treatment
Culturally-informed case conceptualizations
How to validate experiences of oppression
Identify your clients' strengths and supports
Strategies to build ethnic and racial pride
Adapting validated PTSD treatments
5 techniques to help clients of color cope with stress
Group treatment for race-based trauma
Research and limitations
Growth as a Therapist:
Become More Comfortable Working with Issues Related to Race
Personal growth questions answered
What can well-intentioned people do about racism
How to become more comfortable talking about issues related to race
Guidance for clinicians of color
Homework exercises
Target Audience
Counselors
Social Workers
Marriage and Family Therapists
Psychiatrists
Psychologists
Physicians
Psychotherapists
Therapists
Addiction Counselors
Case Managers
Nurses
About Monnica T Williams, PhD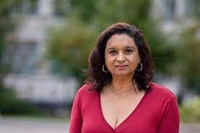 Dr. Monnica T. Williams is a board-certified licensed clinical psychologist and Associate Professor at the University of Ottawa, in the School of Psychology, where she is the Canada Research Chair in Mental Health Disparities.
She is also the Clinical Director of the Behavioral Wellness Clinic in Connecticut, where she provides supervision and training to clinicians for empirically supported treatments.
Prior to her move to Canada, Dr. Williams was on the faculty of the University of Pennsylvania Medical School (2007-2011), the University of Louisville in Psychological and Brain Sciences (2011-2016), where she served as the Director of the Center for Mental Health Disparities, and the University of Connecticut (2016-2019) where she had appointments in both Psychological Science and Psychiatry.
Dr. Williams' research focuses on BIPOC mental health, culture, and psychopathology, and she has published over 150 scientific articles on these topics. Current projects include the assessment of race-based trauma, barriers to treatment in OCD, improving cultural competence in the delivery of mental health care services, and interventions to reduce racism. This includes her work as a PI in a multisite study of MDMA-assisted psychotherapy for PTSD for people of color.
She also gives diversity trainings nationally for clinical psychology programs, scientific conferences, and community organizations. She has served as the African American SIG leader for Association of Behavioral and Cognitive Therapies (ABCT), and currently is Chair of their Academic Training Education Standards (ATES).
She serves as an Associate Editor of Behavior Therapy. She also serves on the editorial board of Cognitive Behaviour Therapy, Canadian Psychology, International Journal of Mental Health, Journal of Obsessive Compulsive and Related Disorders and the Cognitive Behavioral Therapist.
She is a member of the Scientific Advisory Board of the International OCD Foundation and co-founded their Diversity Council. Her work has been featured in several major media outlets, including NPR, CBS, Huffington Post and the New York Times.
Readmore about: Monnica T Williams
Share Tool - Group Buy Tools and Premium WordPress From $1