Kara's – Behind the Scenes Guide to Creating a Vlog
Salepage: Kara's – Behind the Scenes Guide to Creating a Vlog 
What You'll Learn In This Course
The only program I have ever used to edit video is Adobe Premiere Pro. I personally think it's the best video editing platform, but my opinion is obviously biased. Either way, I'll be teaching you how to edit videos exclusively on Premiere Pro.
Premiere Pro has thousands of features, and to be honest I don't know how to use half of them. If you're looking for a comprehensive guide to learning Premiere Pro, you're in the wrong the place.
However, if you like my editing style and you want to learn the step by step process I use to create the videos you see on YouTube, this course is for you!
We publish a new video every other day (most of the time) while traveling full-time. I'm going to show you my workflow for efficiently creating beautiful videos without all of the unnecessary information you find in other tutorials.
The outline below shows you the exact lessons you'll be learning in the course.
Course Curriculum
1. Before You Begin
a. How it Works (1:37)
b. What You Need
2. Organization
a. Organizing Your Videos (3:25)
b.ing Your Project (3:55)
c. Importing Footage to Premiere Pro (4:36)
3. Creating a Timeline
a. Sequence Settings (2:13)
b. Cutting Clips (4:54)
4. Going Through the Footage (Round 1)
a. Sony Footage (22:39)
b. G7X Footage (8:12)
c. Drone Footage (7:42)
5. Speeding Up, Slowing Down, & "Time Lapses" (Round 2)
a. Slo-Mo B-Roll (8:28)
b. "Time Lapses" & Speed Ramping (6:01)
c. Manual Video Transitions (3:23)
6. Adding Text/Titles
a. Easy Text, Fancy Text, Saved Text (8:31)
7. All Things Audio (Round 3)
a. Editing Audio (3:04)
b. Epidemic Sound (4:15)
c. Ripple Edit Tool & Fading (32:39)
8. Fixing Colors & Final Touch Ups (Round 4)
a. Adjustment Layers for Color Grading (16:11)
9. Rendering & Exporting
a. Export Settings (3:39)
10. Uploading to YouTube/Thank You!
a. Choosing Cover Photo (2:59)
BONUS: TravelCon Youtube 101
Your Instructor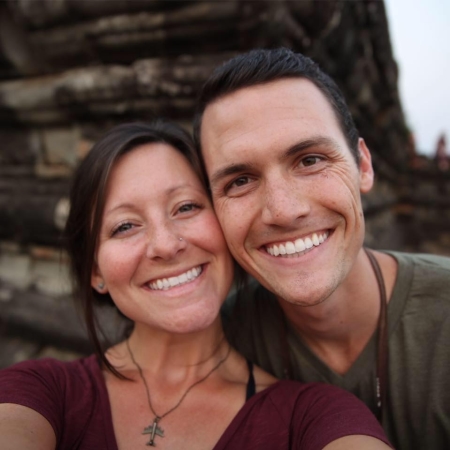 In case you didn't find this course through our YouTube channel, allow me to quickly introduce myself. In January 2016, my husband and I moved out of our apartment, put all of our things in storage, and bought a one way ticket to Japan to start a trip that would turn into a three year adventure of full-time travel around the world.
Although we both had limited experience creating videos, during the first year we committed to capturing and sharing our adventure through daily(ish) videos on our newly created YouTube channel. We had no clue what we were doing when we first started out…
What Makes This Course Different?
I'm going to be completely honest with you. You can probably find most of this information somewhere on the internet for free. In fact, I've spent the last 3 years teaching myself from scratch with free tutorials online.
My goal in this course is to take everything I've learned over the past 3 years and put it in an easy to understand step by step guide so you can learn in 1 week what I've spent the last 3 years learning.
Plus, after creating over 500 videos, I've developed my own style. If you're here because you like my editing style and you want to see exactly how I create it, this is the only place you can find it. 🙂
Frequently Asked Questions
When does the course start and finish?
The course starts now and never ends! It is a completely self-paced online course – you decide when you start and when you finish.
Do I need any prior experience to participate in this course?
No 🙂 I'll teach you everything you need to know to edit a vlog from start to finish!
Is this course only for creating travel vlogs?
No. I'll be using travel vlogging as an example, but the information you learn in the course could be applied to most genres of vlogging!
Do I need a YouTube channel to benefit form this course?
I would definitely encourage you to start a YouTube channel and build an audience around a subject you're passionate about. However, if you just want to learn how to make beautiful videos for your own personal enjoyment, you'll learn everything you need to know in this course.
What editing program will we be using?
This course will teach you how to edit videos using Adobe Premiere Pro. You'll need to purchase and download the program in order to participate in the course.
Readmore about: Kara's
Share Tool - Group Buy Tools and Premium WordPress From $1