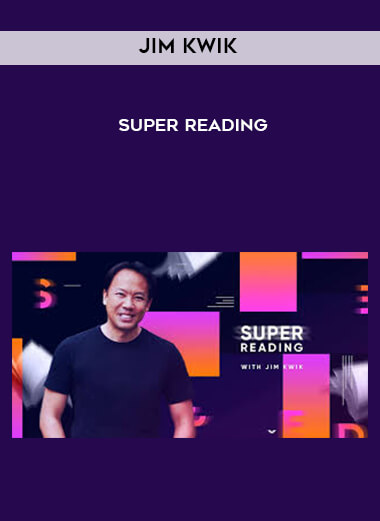 Sale Page: Jim Kwik – Super Reading
Archive: Jim Kwik – Super Reading
Follow Hollywood Brain Coach Jim Kwik's Proven Approach in His Super Reading Quest to Instantly Absorb Anything You Learn, Read 2x Faster and Get An Edge in Every Area of Life
What You'll Learn
Double Your Reading Speed:
Harness science-backed neurostimulation techniques and proven speed reading tools to break through the limiting 'inner voice' reading method that has greatly diminished your natural reading speed.
Achieve More, Faster:
Discover how to apply your accelerated reading and learning speed towards your personal and professional goals – so you can multiply your productivity and get more done in record time.
Develop A Superhuman Memory:
Learn simple yet effective memory retention techniques that ensure you can not only absorb information faster – but also retain and use it at a moment's notice.
Improve Your Grades:
Cut your study time into a tiny fraction of what it used to be. Gain a deeper understanding of everything you learn. And ace any test or exam with far less time and effort.
Rapidly Absorb New Knowledge & Skills:
From languages to musical instruments to professional skills, use your newly awakened mind power to quickly master even the most demanding pursuits.
Accelerated Career Growth:
Recall important information in presentations and meetings. Consistently solve problems and make bigger contributions in your team. And reap the rewards of your dramatic leap in performance and impact.
The Curriculum
WEEK 1: The Foundations Of Speed Reading
This is where you discover the beginning brainwork that reveals your natural ability to expand your learning capacity to infinite levels. Your start will be easy — you'll learn how fast your mind is functioning and which obstacles are in your path to make learning your superpower.
Highlights include:
Your starting reading pace: learn exactly how many words per minute you're currently consuming.
Identify common obstacles like distraction, rereading, and school training so you can quickly overcome these challenges.
The secret to increasing your focus so you can speed through pages with ease… just by lifting a finger. A proven technique to anchor your visual width and easily expand it to see more of the page without straining your eyes.
Jim Kwik's simple method to read a book a week without spending hours reading each day.
WEEK 2: Scientific Techniques To Enhance Your Speed & Comprehension
In this part of the quest, you'll practice with specific tools to retrain your brain on daily tasks, so that you naturally increase your reading speed without spending hours in a book. Here is where you'll learn step-by-step how your brain's ability is limited only by how much you exercise it.
Highlights include:
How to break the cycle of reading like a six year old that your school teacher instilled in you when you were young.
The simple technique that combines physical movement and right-brain activation to trick your mind into opening the next level for you.
Your own personal mental gym: speed drill techniques to rapidly increase your words read per minute.
How to activate your peripheral vision and put it to work for you, so you're subconsciously taking in every bit of information around you.
The four power questions you need to instantly skyrocket your comprehension
Your BIGGEST speed reading questions answered: crack the code for higher comprehension, faster learning, and unlimited growth.
WEEK 3: Jim Kwik's Tricks For Advance Comprehension & Focus
This final part of the quest is where the magic happens. Here, you'll get Jim Kwik's personal tools and techniques to learn anything you want in record time, and retain information at a remarkable rate. Once you've mastered the skills in this part of the quest, the world will literally unfold before your eyes — anything you want to achieve is within your grasp, thanks to your Super Reading ability.
Highlights include:
The truth your teachers never told you about note-taking to sharpen your focus beyond belief.
How to learn 5x faster through teaching others the skills you want to develop.
Take a break: the science behind the most constructive brain breaks for your growth.
This technique functions as yoga for your brain, to stretch your mental capacity further than ever before.
Skimming the RIGHT way: what you never learned in school, other courses, or any of your reading before now.
Three Dots to Make Your Brain POP: how to see groups of words so that your brain maps out exactly what you want comprehend, faster than before. 5 Levels of Transformative Reading that will radically shift the way you approach learning anything for the rest of your life.
How just a few minutes a day can toggle your brain's learning switch 'on' and train it to naturally improve itself
Share Tool - Group Buy Tools and Premium WordPress From $1