IYCA – Certified Speed and Agility Specialist Digital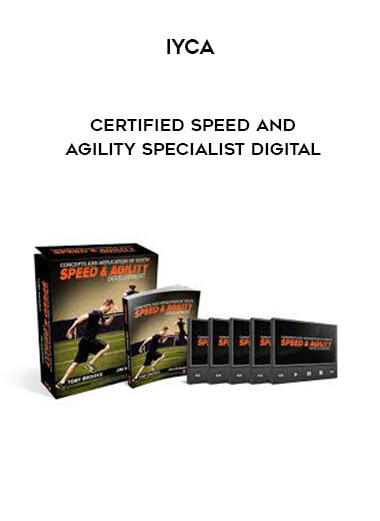 Salepage :
IYCA – Certified Speed and Agility Specialist Digital
Arichive : IYCA – Certified Speed and Agility Specialist Digital
IYCA Certified Speed & Agility Specialist™
If you've listened "expert opinions" and tried trendy drills that don't produce results, you've probably gotten really frustrated with the entire concept of speed development.
Too often, coaches look for the magical drill that will change everything or listen to advice from someone who doesn't truly understand the intricacies and science of speed training, or who simply can't distill it down into useful terms.
If you've been looking for a way to develop real speed – without gimmicks, without fluff – look no further.
The IYCA Certified Speed & Agility Specialist (CSAS) is the most practical, thorough and scientifically sound speed development curriculum available.
For a long time, people believed that speed couldn't be developed – it was a something athletes were simple born with.  Thankfully, science proved that wrong.
A series of studies by well-respected researchers showed that certain techniques actually improved speed much better than others.  Eventually scientists uncovered some basic fundamentals of speed development.
The most important finding of all is that the fastest athletes in the world actually move differently than slower athletes.  This may not seem exciting, but what was revealed is that it's possible to teach these slower athletes how to move more like their faster counterparts.
Now, if all we did was rely on science, this wouldn't be a complete curriculum.  Instead, we enlisted one of the brightest minds in science and two of the most experienced coaches in the industry to teach you exactly how to apply these principles.
Rather than create more confusion, this material distills everything down into easy-to-understand terms so you can stop wondering what's true, and start making your athletes faster.
The CSAS materials will teach you:
How to use drills in a way that actually produces results

The science behind rest periods

Why agility drills often don't translate to the field

How to fit speed development into an complete training program

Coaching cues that athletes understand

Teaching progressions for any age or level of experience

Advanced techniques that help even the fastest athletes
The Certified Speed & Agility Specialist – An Overview
The CSAS is the most comprehensive speed & agility education program available, designed for fitness professionals, performance coaches, strength & conditioning coaches and sport coaches.
Covers what REAL speed work is, and exactly how it needs to be used in your training program.

Addresses the science of speed development, and covers the importance of Long Term Athletic Development through a detailed blueprint.

Detailed program design for the ideal speed training program.

How to actually coach speed & agility with proven coaching cues used by top coaches.

How to use training aids to maximize the effects of your program.

69 online videos detailing virtually every aspect of speed & agility mechanics.

Printable PDF files of chapter outlines and a course syllabus with suggested week-by-week assignments.

75-question online exam, available immediately with results provided immediately upon completion.

Credentials that set you apart from everyone in the industry.
Practical Speed & Agility Education for Coaches & Fitness Professionals.
The IYCA Certified Speed & Agility Specialist course and certificate empower you to improve the speed & agility of any athlete you coach. The practical information, strategies, and drills prepare you to immediately improve the results you deliver to your athletes.
You'll first learn the science and core concepts impacting speed & agility.
Next you'll discover the mechanics of speed & agility coaching.
Then, to tie all of this together you'll learn how to program and coach to maximize speed & agility in your athletes.
When it comes to speed & agility, if you need to know it, the Certified Speed & Agility Specialist materials cover it in detail.
There is no other program like this. Nothing addresses speed & agility with the detail or provides the useable knowledge and coaching tools that the CSAS does.
Why Become a Certified Speed & Agility Specialist?
The Certified Speed & Agility Specialist program was developed to address one of the most glaring and obvious needs in our profession.
Speed & agility are paramount to the success of athletes in almost all sports. As coaches and fitness professionals we're charged with improving our athletes performance on the field or the court.
The Athletic Advantage
In competitive sports the faster and more agile players on the field or court have a distinct advantage over the competition.
The ability to accelerate or change direction can often be the difference between defeating an opponent and being defeated.
Linear Speed Is Not Enough
While 40-yard-dash times are impressive and key parts of the combine circuit, game speed is so much more.
Linear speed is just one of many skills that you need to develop in your athletes if you want to maximize their game success. 'Track speed' isn't enough unless your athletes are only competing in track and field.
They need the ability to accelerate and decelerate quickly. They need multi-directional speed. They need to be able to change direction rapidly.
You know this, but where do you go to learn how to coach it?
A Complete Resource
When we originally decided to offer the Certified Speed & Agility Specialist, it was largely because no one was really providing a complete education for coaches when it came to developing speed & agility in their athletes.
There were plenty of speed products that offered collections of drills or strength programs that were designed to enhance speed.
A select few certifications touched on the development of speed as part of a broader curriculum.
There were even live workshops that provided a hands-on learning experience for coaches.
But none of these solutions were complete.
None were going to provide the coach or fitness professional with the background knowledge, practical education and complete toolbox they need to being out the best in their athletes when it came to developing speed & agility.
The IYCA Certified Speed & Agility Specialist
Until now nothing available addressed this simple but critical need: how do you as a fitness professional or coach give your athletes the 'on the field' competitive advantage of speed and agility.
That's why this Certification exists. To address that need. Completely.
We want to make certain that the work you do and the coaching you provide to your athletes is completely obvious every time they step on the field or the court.
The CSAS can make that a reality.
About the Certified Speed & Agility Specialist
You got an overview of the course at the top of the page. Here's more detail about what you're going to gain by completing the CSAS.
This Credential is a product of years of innovation and current research. The Certified Speed & Agility Specialist combines:
The IYCA's Revolutionary Approach To Long Term Athletic Development.
The IYCA CSAS provides you with a complete approach to speed & agility development that takes into account the real world considerations of training athletes ranging from sports specialization to the differences in the needs of 8-11 year olds, middle/high-school athletes and even collegiate competitors.
Hands On, Practical Education.
We've enlisted Jim Kielbaso and Dr. Toby Brooks as Co-Authors of this Certification to share their insight and experiences gained from coaching thousands of athletes from 6 year-olds to professionals.
Real World Programming.
Gain access to actual, proven training programs for high school athletes designed by the industry's top coaches to better empower you to implement your own effective training approach.
Who Should Get Speed & Agility Certified?
Any Coach or Fitness Professional who works with athletes should become a Certified Speed & Agility Specialist.
This Credential specifically addresses the needs of today's athlete:
Speed and agility are more visible and important now than ever before with a growing emphasis on combines and timed measurables to evaluate performance.

The prevalence of Sports Specialization has created new challenges for coaches when it comes to programing.

Dated programming and cookie cutter workouts have led to more injuries and limited performance improvement.

The different needs of 6-9 year olds versus 14-18 year olds and considerations for In-Season, Pre-Season and Off-Season training.
If you're coaching or training athletes, you're dealing with these considerations and many others. The Certified Speed & Agility Specialist Certification will better equip you to serve those athletes and help you allow them to perform their best.
The Collegiate Strength & Conditioning Coaches Association (CSCCa) has even approved the CSAS for CEUs for their membership.
What Are The Benefits of Getting the CSAS Certification?
There are a number of benefits to becoming a Certified IYCA Certified Speed & Agility Specialist, including:
The ability to develop and implement the right programming to maximize the speed & agility of your athletes regardless of age, gender or sport.

The confidence that your programming is based on real world evidence and specifically designed to maximize the game performance for each athlete you coach.

Positioning as a 'higher quality' fitness professional or coach that is specifically prepared to work with athletes and enhance their on the field or court performance with evidence based programming.

A tool to improve your business or career by being a specialist in a high need area that will immediately allow parents, coaches and administrators to know that you are uniquely prepared to improve the speed & agility of athletes.

The ability to get better results, maximize performance and minimize injury in the young athletes you serve.

The knowledge to better prepare your athletes to successfully develop from the Discovery phase of training (age 6-9) to preparing to compete at the collegiate level.

Separating yourself from all other coaches and trainers in your area, with the specific speed & agility knowledge that comes with being a Certified Speed & Agility Specialist (CSAS) – this will help you become the go to person in the area as well as all of your athletes getting faster and more explosive.
While there are many other benefits to becoming an IYCA Certified Speed & Agility Specialist, the bottom line is this…it will make you better at what you do and allow you to better help the athletes you serve.
What Is The Learning Format For The Certified Speed & Agility Specialist Certification?
When you decide to become a Certified Speed & Agility Specialist you'll gain access to the following materials:
Comprehensive Speed & Agility Textbook – The official textbook delivers practical concepts supported by the latest research.
Complete Video Library – The Speed & Agility video library contains 69 videos covering:
The entire overview of speed & agility mechanics detailed in the text.

A comprehensive collection of speed & agility drills.

Key concepts and coaching cues to maximize your success in implementing what you learn.
Done-For-You Programs to review and model and use for ages 6-9, 10-13 and 14+.
Once your register to become a Certified Speed & Agility Specialist, you will be directed to create your IYCA account if you do not already posses one.
You can test when you are ready.
You may take up to one year to complete your Certification, and review the materials as often as you like. You will immediately know the results after you take your test. Most students finish within 2-3 weeks.
Exam Requirement – Passing a 75 multiple choice, non-proctored online exam with 70% or higher. One attempt at the exam is given. Results are known immediately.
Retest Fee – $50 retest fee applies if the passing requirement is not met at the end of the second exam attempt.
Completion Time – Approximately 2-3 weeks (complete within one year of purchase)
Earn the credential of IYCA Certified Speed & Agility Specialist.
Share Tool - Group Buy Tools and Premium WordPress From $1