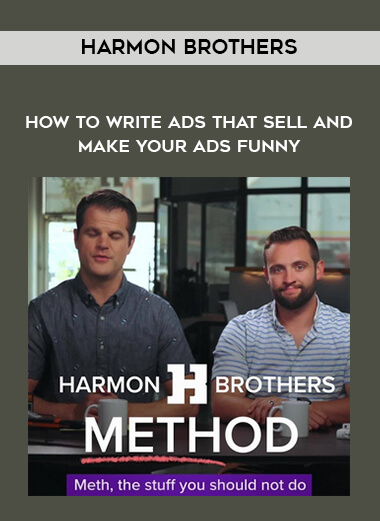 Sale Page: Harmon Brothers – How To Write Ads That Sell And Make Your Ads Funny
Archive: Harmon Brothers – How To Write Ads That Sell And Make Your Ads Funny
What's In The Course?
​Over 3.5 hours of

concise, actionable video

content

​Over

70 digestible videos

that will explain and breakdown comedic tools you can use to write, direct, and edit funny ads.

​

3 actionable workbooks

with exercises for strengthening your comedy chops in the writing, filming, and editing phases of your ad.

 Membership to the exclusive Harmon Brothers University Facebook Group

for personalized braintrust feedback on your content (we've had students say this alone is worth $3k to them)

 FREE BONUS COMING SOON: 500 page joke bank

that classifies jokes into 70+ categories from our lead writer, Dave Vance (Squatty Potty, FiberFix, Purple).
THIS COURSE
IS FOR YOU IF…
​You love watching funny ads (i.e. the Super Bowl ads are more important than the game)

​You struggle to add humor to your own ads

​You want to leverage the same techniques that billion dollar brands use to make their ads funny (think Budweiser, Geico, State Farm, etc).

 

You've created "funny" video ads that only get pity-laughs

​You believe that your brand or product needs to be funny, but you have no idea where to start

​You hate bad ads that try too hard to be funny and end up being gross, distracting, or just simply not funny

​You know that comedy is valuable for advertising, but the only thing funny about you is that you graduated with a degree in accounting (we're looking at you, Dave S.)

​You want to make your video ads funnier but just don't know how

​

You believe that COMEDY is something that can be LEARNED
THIS COURSE IS
NOT FOR YOU IF
…
​You already have too many customers, too many sales. Successes can be rough, right?

​You hate laughter, joy, and orphans.

​Think that "funny" is something you're born with, and can't be learned

 

You're not interested in marketing or advertising. Why did you even come to this site?

​You have credit card debt (take care of that first before purchasing this course)

​You're wanting a step by step method to writing an entire ad that sells (this course is focused on how to use comedy in ads – but we do have other courses for that

here

).