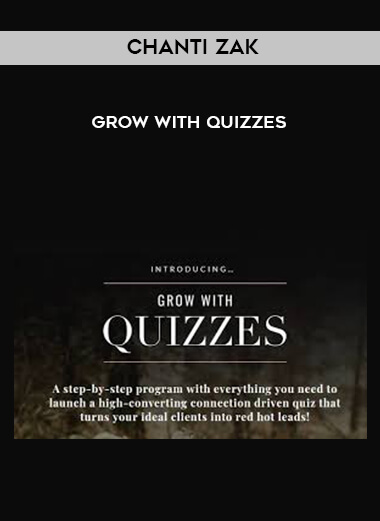 Sale Page: Chanti Zak – Grow with Quizzes
Archive: Chanti Zak – Grow with Quizzes
If there were a way to attract 10 times as many new leads as a traditional lead magnet and place those new leads into a profitable sales funnel without you having to invest $15K+ in a marketing team— would you do it?
An 8-week program for Marketers, Copywriters, and Business Owners who've got an array of badass offerings but still don't have a lead generation system that builds awareness, likeability, and trust in your brand—and converts leads into paying customers on autopilot.
Live training sessions, guest experts, every template you'll ever need, a strategy session with yours truly, and a full review of your quiz funnel at the end of the 8-weeks.
This is not a course, it's a hands-on training and I'll be helping you create an evergreen lead generation and sales asset every step of the way.
If you want to…
Learn the exact system I used to help my client Jenna Kutcher attract 50,000 new leads (in less than 6 months)
Get the secret recipe for a follow-up sequence that has the power to boost your bottom line (without you having to do any extra work) to the tune of $25K in 2 weeks like another one of my private clients
Segment your audience right off the bat— no annoying surveys or ConfusionSoft necessary
Accomplish all of that while getting 10X as many leads from your usual opt-in freebie
Become a better copywriter and use the psychology of quizzes to improve your relationships and increase your sales
This is the program for you.
What's Included?
Week 1:
The Above and Beyond Framework for a Quiz that Converts Like Cray Cray
Why most quizzes suck and how to make sure yours doesn't with the same foolproof framework I use with my 1-1 clients.
Week 2:
Crafting Compelling Questions + Outcomes
How to craft your questions using my threefold approach to segment your quiz takers, capture relevant data, all while being fun and engaging at the same time.
Creating outcomes that exceed expectations and create connection right from the get go.
Week 3:
Implementation week
Group pomodoro style implementation sessions to work on your quiz with Q&A breaks in between.
Week 4:
Creating the follow-up funnel sequence
A guide to writing your follow up sequence, from the welcome sequence all the way to selling your core offer. You'll get frameworks, formulas, swipes, and all the lessons I've learned from past quiz campaigns.
Week 5:
Implementation week
Group pomodoro style implementation sessions to work on your post-quiz emails with Q&A breaks in between.
Week 6:
Setting Up Your Quiz + Different Platforms
An overview of different hosting softwares and various ways to set up your quiz.
Week 7:
Guest Expert on Email Automations + Segmentation Strategies
You'll learn how to segment quiz takers by question responses or outcome and how to set-up your post quiz email automation.
Week 8:
Guest Expert on FB ads
You'll learn how to set-up Facebook and Instagram ads for your quiz, targeting strategies, copy hacks, and more.
Read more about: Chanti Zak