Aerial Roof Inspection Pro
Salepage: Aerial Roof Inspection Pro
The roofing inspection industry offers a great opportunity to make a profit while helping others ensure that their structure is up to code. However, inspecting roofs can be dangerous at times, and there is a lot you need to know before you jump up on a roof and begin to assess its quality.
There's good news, though: new technology is making it cheaper, easier, and safer than ever for you to conduct roof inspections. The use of drones allows you to survey a roof without having to go up on the roof at all, in some cases.
Why aren't you making money with your drone?
You've done everything you needed to do. You've learned all about drones and the FAA's regulations, you've taken the Part 107 Exam and you have your remote pilot certificate. You were so excited to get out there and start making money with your new drone business!
But…
That's not exactly how it all unfolded. You got a few clients here and there, but you can't seem to get a steady stream of revenue. Even after scouring drone job networks (i.e. DroneBase, Droners.io), you still can't find people who really want your drone services. So where are all the clients? Where is this "booming industry" that got you excited to join the drone field?
Maybe your problem is that you don't have a unique, marketable skill.
There are thousands of drone operators out there, so how are you going to differentiate yourself and attract clients? Sure, you have knowledge about drones and the regulations around flying them, but do you have specialized drone skills?
If your answer is a reluctant "… no…", don't worry. We've got you covered.
Your dream of making money with your drone is not dead!
People are making money with drones, and you can, too!
You've probably heard the success stories of specialized drone operators making thousands of dollars a MONTH—we've heard them, too (check out our Drones to 1K podcast to hear stories of business owners that are thriving in the drone industry, making over $1,000 a month).
Maybe you're wishing that you were at the same level as these people, turning a love for drones into a profitable source of revenue… but you're feeling like you don't have the knowledge and skills necessary to make that kind of money. Every day that goes by that you keep waiting around and wishing you had these specialized skills, you're losing potential profit. Think about it this way: if you want to make $1,000/month conducting aerial roof inspections, but you're currently just wishing you had the knowledge and skills to do so, you're missing out on a potential $12,000/year. Think about all the money you're losing!
Meet your instructors
Remember Sinuhe? Well, Sinuhe and his partner, Riley, are the instructors for this course. They are roof inspection experts who decided to partner with us at DLA to create this course because they want to help others grow successful aerial inspection businesses.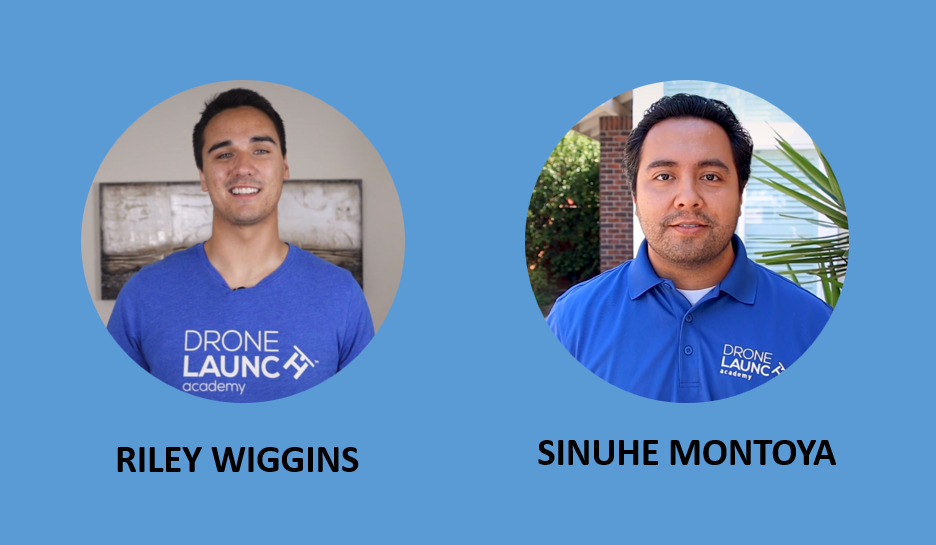 What can you expect from the course?
Alright, so this all sounds like a pretty promising business opportunity, right? We know you probably still have lots of questions:
How do I get certified to commercially fly a drone?
How do I fly close to houses and buildings without crashing?
What kinds of drones are best for roof inspections?
How do I find potential clients?
How much should I charge for aerial roof inspection services?
What types of photos do I need to take during a roof inspection?
How do I use the photos I take with my drone to create an estimate for clients?
Well, good news, this course will answer all of your questions about the entire process of inspecting a roof with your drone. Throughout the course, you will:
Learn the terminology and anatomy of a roof.
Become familiar with the types of roofs and materials you may encounter.
Learn how to plan for your drone roof inspection flight.
Understand how to collect data (including a full site inspection walk-through).
Learn how to conduct an automated flight (including free vs. paid app comparisons).
Learn how to process data to create a roof report.
Job shadow actual residential and commercial examples.
Learn how to market these services for your own business.
View interviews of industry professionals.
Readmore about: RILEY WIGGINS & SINUHE MONTOYA

Share Tool - Group Buy Tools and Premium WordPress From $1
DELIVERY POLICY:
When will I receive my course?
You will receive a link to download your course immediately or within 1 to 21 days. It depends on the product you buy, so please read the short description of the product carefully before making a purchase.
How is my course delivered?
We share courses through Google Drive, so once your order is complete, you'll receive an invitation to view the course in your email.
To avoid any delay in delivery, please provide an Gmail and enter your email address correctly in the Checkout Page.
In case you submit a wrong email address, please contact us to resend the course to the correct email.
How do I check status of my order?
Please log in to TheDLCourse account then go to Order Page. You will find all your orders includes number, date, status and total price.
If the status is Processing: Your course is being uploaded. Please be patient and wait for us to complete your order. If your order has multiple courses and one of them has not been updated with the download link, the status of the order is also Processing.
If the status is Completed: Your course is ready for immediate download. Click "VIEW" to view details and download the course.
Where can I find my course?
Once your order is complete, a link to download the course will automatically be sent to your email.
You can also get the download link by logging into your TheDLCourse account then going to Downloads Page.