Aaron Testard – LGBTQ Clients in Today's World: Treatment Strategies for Gender & Sexual Identity Issues
Salepage: Aaron Testard – LGBTQ Clients in Today's World: Treatment Strategies for Gender & Sexual Identity Issues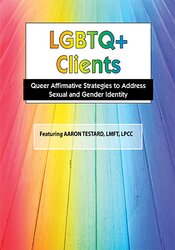 With the variety of terms and ideas in today's LGBTQ+ culture, it's easy to feel lost in the complexity of sexual and gender identity, while also feeling overwhelmed by the fear of inadvertently offending your client somehow.
But it doesn't have to be this way! Aaron Testard is here to bring you the latest research and trends in sexual and gender identity issues.
This training will give you:
Tools and knowledge to confidently work with clients on any part of the sexuality-gender spectrum
Clear strategies to comfortably engage clients around cultural norms, gender, sex, relationships, and terminology
A navigation map to tailor treatment approaches each step of the way in the client's self-discovery process
Build trust and credibility with your LGBTQ+ clients by expanding your knowledge of this ever-evolving population.
Objectives
Appraise current trends and perspectives in the LGBTQ community, and the implications for clinical work.
Build safety and trust effectively with LGBTQ clients in clinical practice.
Analyze the main factors impacting treatment and the identity development process of LGBTQ clients.
Analyze the phases of identity development for LGBTQ clients to better inform treatment planning.
Integrate LGBTQ history and knowledge into the clinical session.
Determine treatment strategies to help clients in each phase of LGBTQ identity development.
Outline
What you Need to Know to Establish Safety, Trust, and Credibility with LGBTQ+ Clients
Understand LGBTQ+ history and its impact on present models of sexuality and gender
2 key questions to ask during an intake session to establish safety and trust
Current trends in the ever-evolving dating and hook-up culture
Learn up-to-date terminology and genderaffirming language including SOGIE, GSM, and more!
Important Treatment Considerations
Trauma as a key factor for LGBTQ+ mental health
Covert cultural sexual abuse and other traumas
Gender dysphoria diagnosis – what does it mean and when to use it?
How attachment injury affects LGBTQ+ development
The phases of sexual and gender identity development
Clinical Interventions to Support Clients Through Each Phase of LGBTQ+ Identity Development
Phase 1: Pre-Coming Out and Confusion
Key Issues: Identify and defuse internal judgements about behaviour, thoughts, desires
Treatment Strategies:

Educate on gender and body dysphoria
Sexual health assessment and education
Phase 2: Comparison and Consideration
Key Issues: Exploration of LGBTQ+ information and overcome barriers to coming out
Treatment Strategies:

Questions that effectively address barriers and potential loss
Inquire and challenge without pushing beyond client readiness
Psychoeducational tools to help clients consider their identity
Phase 3: Tolerance and Exploration
Key Issues: Address shame and deeper exploration of gender and/or sexual identity
Treatment Strategies:

Help clients build their unique support system
Apply ACT matrix and Functional Analytic Psychotherapy principles to address shame and internalized homophobia
Psychoeducation and information on gender transition steps
Phase 4: Acceptance and Deepening
Key Issues: Support coming out/transition process and address internalized homophobia
Treatment Strategies:

Utilize WPATH Standards of Care to support clients in transitioning
Guided visualizations for challenging coming out situations
Tools to build resilience with increased visibility
Phase 5: Pride and Commitment
Key Issues: Validation of anger, process trauma, grief, and loss related to being LGBTQ+
Treatment Strategies:

Manage anger about oppression, teach clients the 4 roles in social change
Trauma-informed techniques for processing traumatic memories
Release pain of grief and loss through EMDR, IFS, Sensorimotor, and other techniques
Phase 6: Synthesis and Integration
Key Issues: Continue emotional processing and revisit earlier phases as needed
Treatment Strategies:

Address continued minority stress
Know when to re-engage in earlier stages of development
Readmore about: Aaron Testard
Share Tool - Group Buy Tools and Premium WordPress From $1