Robert Anthony – The Dynamic Power of Deliberate Creation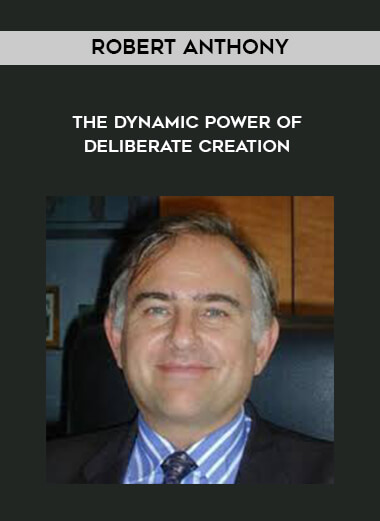 Salepage :
Robert Anthony – The Dynamic Power of Deliberate Creation
Arichive : Robert Anthony – The Dynamic Power of Deliberate Creation
Dr. Robert Anthony is known worldwide for making a life-changing difference in the lives of more than 10 million people around the globe. He is the undercover secret for many who are among the most successful individuals globally. He is the founder of many transformational works like The secret of deliberate creation, the remarkably lauded Zero resistance weight loss, self-confidence creator, and his latest release Deliberate creation instant self-hypnosis. His knowledge and profound understanding and wisdom have assisted and changed the lives of many all over in improving the quality of their lives.
Dr. Anthony has spent more than 30 years of his life, unfolding the mysteries of the mind. Within that period, he has acquired a Ph.D. from Pacific Western University in behavioral psychology, and he has experience working as an NLP practitioner, psychotherapist, personal performance trainer, and a master hypnotist.
Dr. Anthony is a member of the association for comprehensive energy psychology and is well trained in every form of energy therapy, namely TAT, TFT, and EFT with a license from the American Board of hypnotherapy. Moreover, he has addressed more than 5,000 prestigious seminars around the world and been present as the keynote speaker to clients paying hundreds of thousands of dollars to attend. Moreover, he has had many appearances on NBC television, CBS, and ABC with a client list that includes several giants like Proctor and Gamble, Mary Kay, Federal Express, and other 500 companies. He has authored more than 15 books that have been published in about 22 countries selling over a million copies; in total, all his books have sold more than 4 million copies.
About the product
The secret of deliberate creation is not theory; it is all about measurable results. First of all, it gives an in-depth explanation about the Law of attraction which has been so mysterious, a myth to several thousands of people. For others, it seems like an impossible fairy tale that continues to spread like wildfire, which makes us question whether it exists at all.
This book is also beneficial for the smart ones that have witnessed several people around them succeed and have now decided it is their turn to shine. Stick to this program if you are searching for something tangible that will assure you 100 percent results in your life. You are ready for the techniques if you are tired of watching, tired of waiting, and tired of hoping; it is your turn because if you don't do anything different from this moment, it will be unfortunate for you because nothing will ever change. Ever since the secret of deliberate creation made its debut, several manifestation 'gurus' and 'experts' have risen to dominate the scene; almost everyone is cashing in on advancing the Law of attraction.
It is vital to know that Dr. Robert Anthony has over 30 years of experience teaching about the Law of attraction and manifestation. What it simply means is that he has been helping millions of people just like you acquire what they want and when they want it for more than a quarter-century. It is not a means of ensnaring masses to make fast cash. As he says, money is not the only way to measure success and wealth.
The moment you decide on taking back control of your life, you will enjoy having access to the very best work of Dr. Anthony about the processes and principles of manifestation. The fully loaded 'Doc in a box' contains six discs meaning six whole hours of gold waiting for you. Applying the outlined principles to make quick changes in your life is an easy and straightforward process.
The main reason for including six hours of instruction to the program is because there is a whole difference between knowing what to do about something and doing it. The introductory part of 'Doc in the box' talks about the Law of attraction and how quantum physics is the key to developing your future. The second disc will mention how to utilize your natural inner guidance system, the secret of the flip switch, and how the collective consciousness of other people have a bearing on your life.
The third disc explains in detail how to know what you truly desire, mindset Vs. Heart-set and the law of critical mass. Get to communicate with your ESP after listening to the fourth disc as well as understanding time and your point of power; you will get insight on allowing vs., resisting too. Disc five is all about getting rid of mental blocks and self-sabotage and letting go and letting it happen. The final disc gives you the road to no more excuse and how to know when it is time to make it happen; it also contains the ultimate secret for creating your life by design. Place an order online and immediately download the secret of deliberate creation.
The Secret of Deliberate Creation
Share Tool - Group Buy Tools and Premium WordPress From $1