Lynn Waldrop – All About Hair Series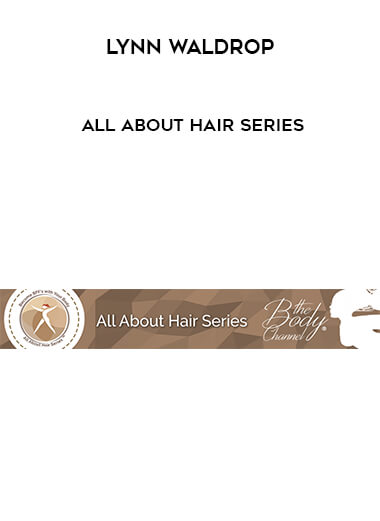 Salepage :
Lynn Waldrop – All About Hair Series
Arichive : Lynn Waldrop – All About Hair Series
Whether you're young or old, male or female, have thinning hair or thick hair; this series is for you!
Unless you're one of the lucky ones, odds are you will experience some type of hair thinning at some point in your life. Many people do not realize that hair loss is not always just a physical issue either; the emotional toll hair loss can take also has a huge effect on both men and women which is why Lynn will be addressing both physical issues and TFE's (thoughts, feelings and emotions) surrounding all things hair!
In addition to hair loss, Lynn will be working with energies on many other hair topics. 
We surveyed over 10,000 people and millions of bodies and this is what they told Lynn to include in this series:
Color & Texture: Greying Hair, Vibrant Color, Thick, luscious locks

Genetics & Risk Factors for Hair loss & Thinning

Unwanted Facial Hair and Body Hair

General Hair Health: dandruff, split ends, oil control, dryness

& much more!
In this highly requested, new series, Lynn will work with your body to shift the TFE's (Thoughts, Feelings and Emotions)  as well as shifting the Physical body issues that create these changes in your hair, insecurities, and appearance!  We will dive into Past Lives, your childhood, your relationships, wherever we need to go to clear the blocks!
Ask Yourself…
Is your hair your security blanket?

Has your hair gone from thick and luscious to thin and damaged?

Are years of heat damage and chemical use from products ruining your hair?

Are grey hairs beginning to appear?

Do you have unwanted facial or body hair?

Is stress causing you to lose your hair?

Do you wish you had healthier and more vibrant hair?

Do you want to regrow new & healthy cells on your scalp?

Have hormones changed the texture of your hair?
If you answered YES to any of the above questions, then the All About Hair Series is for you!
I'm more grateful than I can tell you! I've seen dermatologists and doctors for 2 years without resolution to thinning hair and hair loss.  The medical establishment simply doesn't know. I've been listening to your calls and have noticed huge improvements in my skin and detoxing and all areas you covered on those calls.  Your work is truly more valuable than years of expensive therapy!!! **
Cara
Listen as Lynn answers your questions about The Hair Series!
00:00
45:49
| | | |
| --- | --- | --- |
| | Here are some of the topics Lynn will be covering in this series: | |
Hair Color & Vibrancy

Grey Hair

Hair Length & Texture

General Hair Health (breakage, split ends)

Effects of Chemicals in Products, Heating Tools, Hair Coloring, Etc.

Vitamins for Hair Growth

Unwanted Facial Hair

Unwanted Body Hair

Balding

Eyebrows

Trichotillomania
Dandruff

Hair Thinning Risk Factors: Underactive Thyroid, Diet, Stress, Pregnancy, & More

Shedding

Oily & Greasy Hair

Heredity/Genetics

Immune System Issues that Attack Hair Follicles

TFE's (hair as a security blanket, time it takes to style hair, bad hair cuts as a kid, etc.)

And So Much More
Plus you will have a chance to complete a survey with your own input to help guide the energies of the series!
And what if by changing how you feel about your head of hair, it changes other areas of your life such as Relationships, daily Joy in life and living!
What Lynn's Clients Have to Say!
My hair is definitely losing the grey! The last time I had highlights was 3 months ago!!
Deb
I listened to your hair energies a few times and saw my hair get stronger (I used to have a huge problem with shedding) and saw some improvement in colour and reduction of grey. Last night, I went to sleep listening to it and my body started telling me it wanted me to run the energies overnight. And when I looked in the mirror this morning, no grey! And it's a lovely colour of brown. It looks so healthy I just can't get over it. So thank you so very, very much!
MK
I feel physically great and my hair on my head seems to be growing back!
Alysen
My hairdresser wanted to know what I was doing to my roots because they didn't need colored!!
Suzanne
What's the Next Step?
Choose

your package

Send

in the All About Hair Questionnaire (found in your welcome to the series email following purchase)

Receive

Daily MP3s via email or download from your download page (Monday – Friday) from May 6th – May 31st

Listen

to the 7 – 10 minute MP3 of the day – You simply have to listen to the recording to rewire the neuroplasticity in your brain and allow the body to start the process of change!
That's over 3 hours of clearings!
These daily Remote Remedies MP3s will also be on a password-protected download page specific to this series and you can always access them there after 6:00 EST daily and in the future for maintenance. The daily topic for the Remote Remedy Lynn gets from YOUR bodies as well as the input from your All About Hair questionnaire!
All of Lynn's work including the Remote Remedies are using the consciousness of your body so your body will only pick and choose the energies it wants and needs!  You may feel the energies from the MP3s run long after the recording has finished playing.
What Makes Lynn's Work So Cutting Edge?
Lynn has worked with hundreds of thousands of clients in over 171 countries and has 30 years of experience as The Body Channel, a Certified Color Therapist, Tuning Fork Master and Reiki Master.
She is a Medical Intuitive and bodies anywhere in the world talk to her!   And they get specific! Lynn gets the bodies to open up to the root of the issue, sometimes down to the cellular or DNA level!
Her work includes not just the physical issues but the thoughts, feelings and emotions that create dis-ease – and even entities that may be trying to make a home in the body!
Lynn has been referred to as a "Medical Intuitive on Steroids" and her clients are enjoying pain-free release from the issues that have plagued them for decades.
Lynn has been an angel at helping me reduce my dandruff and eliminate my grey hair. After 3 days, I started to notice a difference!
Char
If you are ready to start receiving the life-changing All About Hair energies, Here's how to participate:
Support Bonuses
Two NEW Upgrade MP3s on the Body's Defense!
Here are a few things that are EXCLUSIVE to this series for you to look forward to:
Lynn has set aside private session time slots JUST for Package B purchasers

3+ hours of energy work in 20 ALL, NEW Remote Remedies ranging from 7-10 minutes each!
Parasite, Fungus, Bacteria & Virus MP3
Runtime 48:24
Parasites – tape worms, roundworms, flat worms, pin worms, hook worms, giardia, toxoplasma gondi, & mites

Fungi – types of candida, black mold, toxic mold, aspergillosis, Valley Fever, Cryptoccocus Neoformans that can infect the brain

Bacteria – spherical or oval-shaped (staph, strep, meningitis, scarlet fever), rod-shaped (Lymes, anthrax, salmonella, listeria, Clostridium perfringens and E. coli), spiral-shaped (syphyllis, leptoporosis), and curved-shaped (Helicobacter Pylori) & Traveler's Diarrhea (enterotoxigenic escherichia coli (ETEC) bacteria)

Virus – Family of Herpes Viruses (chicken pox, Epstein Barr, Mononucleosis, shingles, genital herpes), Ross-River Virus, Adenovirus, Retrovirus, Rhinovirus, Coronavirus, Family of Influenza virus, Family of Rotavirus, West Nile virus, Zika, Dengue Fever, Swine Flu, & Alphaviruses – causing arthritis & encephalitis
Heavy Metals, Chemicals & Radiation MP3
Runtime 13:52
Chemicals – Biotoxins (from bacteria and viruses), pesticides, air pollution, chemicals used to process foods, cigarette smoke

Heavy Metals – aluminum mercury vaccinations, amalgams, lead, cadmium (nuclear power plants, fossil fuel exhaust)

Radiation – Fukushima, medical procedures (MRIs or radiation treatments for cancer)
Share Tool - Group Buy Tools and Premium WordPress From $1