LGBTQ Youth: Clinical Strategies to Support Sexual Orientation and Gender Identity – Deb Coolhart
Salepage: LGBTQ Youth: Clinical Strategies to Support Sexual Orientation and Gender Identity – Deb Coolhart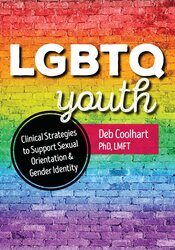 Recently, the LGBTQ community has been in the national spotlight for challenging issues like which bathroom a transgender person should use, increased youth suicide rates, and the Pulse nightclub tragedy. No wonder youth in our communities are scared to be open about who they are.
As a clinician, how are you supposed to help an LGBTQ youth when their parents are just not on board? Also as a clinician, do you know what type of treatment techniques to suggest when a transgender youth wants to prolong hitting puberty? These are the types of questions clinicians struggle with.
Join expert and author, Deb Coolhart, Ph.D., LMFT as she draws on her nearly 20 years of working with LGBTQ youth. Deb will show you effective clinical strategies for:
Coming out
Bullying
Suicide, anxiety, shame, depression, self-harming
Making healthy choices
Thriving in school
Options for guiding gender transition
Working with these youth and families can be complex, requiring the balance of many seemingly opposing viewpoints. As a clinician, there is nothing more rewarding than facilitating these changes and watching families discover their own path towards understanding.
Help LGBTQ kids and adolescents know that it's their right to be themselves!
---
Assess how school, family and social pressures impact the formation of an LGBTQ youth's identity.
Support the coming out process with youth clients and facilitate family interventions to create safety, support, space, and acceptance.
Analyze LGBTQ youth clients' level of risk and protective factors for developing symptoms of anxiety and depression, as well as self-harm behaviors and suicidal ideation.
Assess family dynamics of the client to determine potential to work towards increased acceptance and support.
Assist transgender clients in the readiness process for medical gender transition and compose letters of support for clients to obtain medical gender transition treatments.
Foster LGBTQ affirmative school environments with strategies for working in conjunction with school staff, administration and parents.
---
Coming Into an LGBTQ Identity and Coming Out to Others
Identity development
Internalized homo-bi-trans-phobia
The decision to come out
Fears in the coming out process
Youths' safety
Clinical Considerations
Intervening in depression, shame, self-harming behaviors, and suicidality
Addressing anxiety
Approaching transgender compared to LGBQ
Importance of family acceptance
Intersections of other cultural identities
Research limitations and risks of psychotherapeutic approaches
Differences within the LGBTQ Spectrum
Lesbian Youth

Confronting invisibility
Facilitating positive self-esteem

Gay Youth

Discussing gender role expectations
Sexual health
Substance use

Bisexual Youth

Understanding bisexuality as a legitimate identity
Harmfulness of bisexual erasure

Transgender Youth

Assessing need/desire for gender transition
Exploring options for gender expression

Questioning Youth

Making space for exploration and fluidity
Reducing pressure to self-label
Working with Families
Coming Out
Creating space for parents' reactions and resistance
Supporting youths' LGBTQ identity
Helping parents work towards increased acceptance and support
Navigating religious beliefs
Supporting parents' own process of coming out
Attending to the needs of siblings and extended family members
Facilitating support networks
LGBTQ-Affirmative School Environments
Importance of safe schools for youths' well-being
Assisting parents with school advocacy
Coaching youth towards self-advocacy
Dealing with bullying and mistreatment
Considerations for transgender youth
Share Tool - Group Buy Tools and Premium WordPress From $1